I'm using version Joplin 2.5.10 (prod, darwin), have been using many Joplin versions before.
The video was taken on macOS BigSur, I also have a second mac on BiSur and a third mac on Catalina and a phone on latest iOS, all of them sync through Dropbox.
Ordering is painful due to several issues:
Any advice is greatly appreciated.
If a bug report needs to be submitted, I'll do it:
All in one?
How do I cut this into pieces?
What helps?
I recorded a video (0:55) to show this: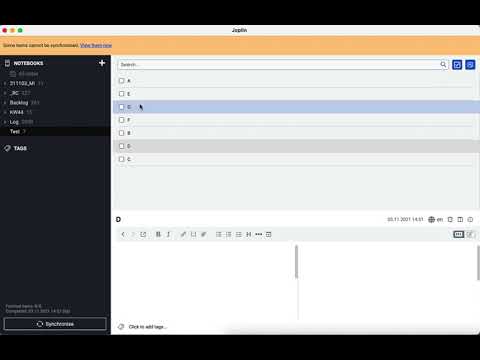 Cannot drag to top, there seems to be some offset? Speculating that offset might be caused by sync warning.
Two attachments that can't sync, I actively deleted them through Joplin months ago, but they keep showing up like this?
When I click "export debug report" I get this file: syncReport-1635949036365.csv (512.2 KB)
Does this help in any way?